Islamic Relief started its textile recycling project   in 1993 after receiving a large influx of clothing donations following numerous emergency appeals.
Since then the project has grown and today we receive  over 2,800 tonnes  of items per year at our clothing sorting plants in the UK.
In Spain, more than 326 tons of clothing per year end up in landfills. Which translates into the waste of 4 tons of textile every 7 minutes. At Islamic Relief, however, we believe in a better solution , one that helps protect the environment and benefits thousands of people around the world.
More than 20 years of experience
During the early years, Islamic Relief packaged and shipped most of the clothing to communities in need around the world. However, we realized that this route was a very expensive way to help our beneficiaries, since the shipping costs exceeded the value of the clothes sent.
Therefore, we opted for a more effective and efficient solution : to provide help by financing projects that help people to break out of the vicious cycle of poverty, helping them to build a secure and sustainable future .
Old clothes, new lives
Most recycled clothing is shipped directly to our sorting plants in Birmingham, where the items are sorted, packed and shipped to buyers in other countries. Donated items are sold in our charity shops across the UK, helping people with fewer resources within the country to buy clothes at an affordable price, while helping people in need around the world.
How is donated clothing managed?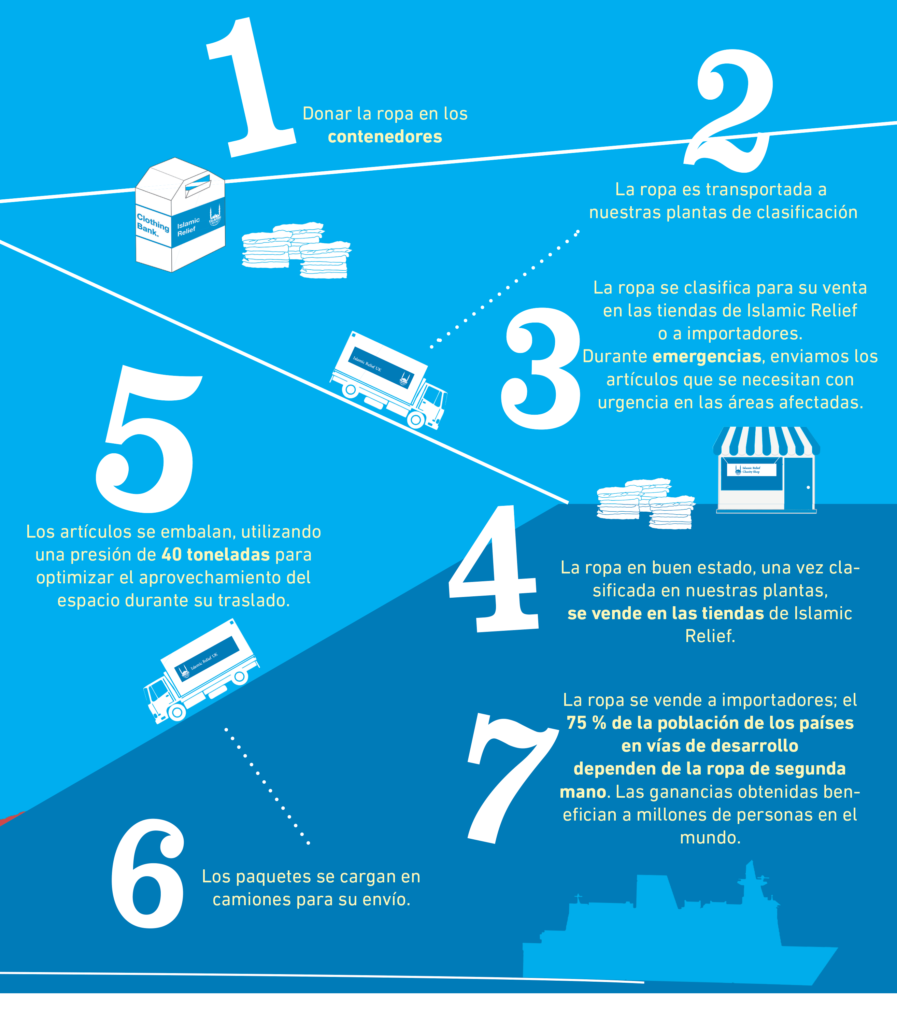 This process is more profitable than sending clothes directly to disadvantaged people without taking into account the coverage of their basic needs such as food, health and housing. However, in emergencies, the clothing that is needed is sent to the affected regions.
Used clothing collection in Spain
Committed to protecting the environment , from Spain we have also wanted to join this textile recycling project .
In 2018, the installation of used clothing collection containers was launched in the mosques of Catalonia . In this autonomous community, in addition to the 240 mosques it houses, other foundations and associations will be able to participate in this charitable work.
We hope to install more containers in other spaces such as schools, civic centers and gas stations and in more cities in the future God willing.
Clothing recycling points
We currently have 24 clothing recycling bins installed in the following mosques:
BARCELONA
▪ Barcelona مسجد: Pg. Mare de Deu del Coll 173-175, 08032 Barcelona
▪ Mataró مسجد الوحدة: Carrer Energia 31, Mataró, Barcelona
▪ Rubí مسجد الأمة: Carretera de Terrassa 89, Rubí, Barcelona
▪ Vilanova i la Geltrú مسجد الفرقان: Carrer de la Fita 1, Vilanova i la Geltrú, Barcelona
▪ Villafranca del Penedés مسجد الفتح: Ar Pp Cirerers, els, 506, 08720, Barcelona
▪ La Garriga مسجد يوسف: Carretera vic 9, 13 La Garriga, Barcelona
▪ Vic مسجد المحسنين: C / de Sant Francesc, 32, Vic, Barcelona
▪ Mollet مسجد السلام: Carrer de la Llagosta 17, Mollet del Vallés, Barcelona
▪ Montcada de Reixach: Carrer Molí d'en Bisbe, 16, Moncada y Reixach, Barcelona
▪ Sabadell مسجد الهدى: Calle Pare Fita, 40, Sabadell, Barcelona
▪ Manlleu مسجد السنة: Carrer de Casacuberta, 4 08560 Manlleu, Barcelona
▪ Barberà مسجد الغفران: Carrer d'Edison, 19, Barberà del Vallès, Barcelona
▪ Casteldefels مسجد: Av. Constitución, 75, Casteldefels, Barcelona
▪ Badalona مسجد مريم: Carrer de Liszt, 99, 08917 Badalona, ​​Barcelona
▪ Masquefa مسجد: Carrer Dídac Toldrà, 35 08783 Masquefa, Barcelona
▪ Martorell مسجد: Calle Gomis 3, 08760 Martorell, Barcelona
LERIDA
▪ Tarrega مسجد الرحمة: Carrer del Xaloc 3, 25300 Tàrrega, Lérida

TARRAGONA
▪ Tarragona – Vendrell: Carretera Vendrell 37B, 43710, Tarragona
▪ Tarragona مسجد السلام: Calle Riu Segre, 11 43006 Campo Claro, Tarragona
▪ Reus مسجد: Carrer de la Tolerancia, 14 43204 Reus, Tarragona

GIRONA
▪ Calonge مسجد الحكمة: Carretera Unió 34d, 17251 Calonge, Girona
▪ Figueras مسجد الإمام ورش: Calle Vilatenim 21, 17600, Figueras, Girona
▪ Torroella de Montgrí مسجد: Carrer de Transport 21, 17257 Torroella de Montgrí, Girona
▪ Palafrogell مسجد: Carrer del Trefi CP 17200 Palafrugell, Girona
You can also deliver the clothes to our offices:
BARCELONA:




Avda. Paralelo, 98 Esc. B Ent.

2a 08015 Barcelona.

(Hours: from 10am to 6pm)

MADRID:

12 Bermudas Islands Street, Portal 5, left basement.

Fuencarral 28034 Madrid (Hours: from 11am to 6pm)
Find your closest container
Contact us by calling the phone  93119 Jan. 84  /  685 72 80 00  via email or the following  info@islamic-relief.es. We will be delighted to assist you.
You can also collaborate and allocate a space in your center as a collection point for  used clothing .